TURTLE ISLAND POTTERY

We are located in the mountains of NC, Southeast of Asheville and North of Lake Lure. We work in a studio at our home. We also have a small house 5 miles away that we use for a Show Room. This space is a Full House of Pottery. If you are in the area just give me a call. Take I-40 to Exit 73 at Old Fort. Go South for two and one-half miles and you will see our sign on the Right. Join my e-mail list and I will send news of Open House events.
~~~~~~~~~~~~~~~~~~~~~~~~~~~~~~~~~~~~~~~~~~~~~~~~~
North America is Turtle Island and Turtle Island is a story of Creation. In its simplest form a turtle swam to the bottom of the waters that covered the world and brought up mud to make the land. Turtle hatched her eggs on this land and everything that is came from this. One egg made Right and one egg made Left. Right made the flowers and Left became jealous and made the weeds. Right made the rabbits and Left became jealous and made the coyotes to eat the rabbits and so it goes.
Maggie and Freeman Jones make their living from the very stuff of creation. Clay has a mind of its own, but with patience and persistence and respect can be persuaded to do about anything that you can imagine.
Turtle Island Pottery produces a very popular line of functional stoneware. Bowls, mugs, baking dishes, pitchers, tumblers, utensil jars, serving platters and more. The pottery has become very recognizable with its opaque white glaze and hand brushed decorations of blue flowers with green and yellow accents and dragonflies. The pottery has found its way all over the world.

During the past ten years Maggie has spent more time producing one of a kind decorative and figurative works. Art Pottery that is highly influenced from the Art Nouveau and Arts and Crafts Movement styles from earlier centuries. Organic in form, each piece is individual with many colors and textures. New techniques along with experimenting with locally dug clays and minerals are also producing lifelike sculptures of wolves, bears and other animals.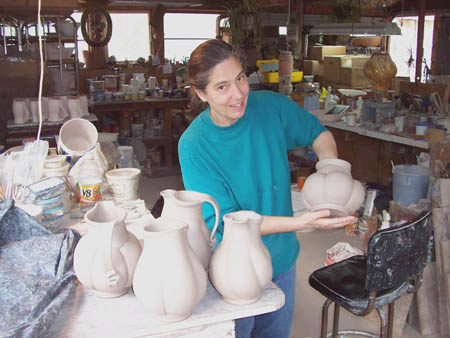 Maggie discovered clay during high school in Connecticut and after graduation in 1971, apprenticed fulltime for Faith Sussman, a production potter in Tarrytown, NY. One year later she had her own studio at Farmington Valley Arts Center in Avon, CT. Further education came from workshops all over the United states.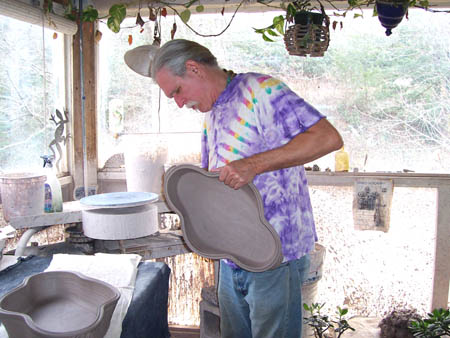 Freeman grew up in Etowah, NC and played with clay from so long ago he doesn't remember not playing with it. The only industry at that time was the Brick Company. One grandfather owned a 150 acre farm that bordered it and the other grandfather worked there for a while making brick. A creek that ran through the family farm had several different seams of clay. In the summer especially, it was a cool, quiet paradise for kids, making all sorts of figures and bowls and baking them in the oven of a wood cook stove.
Years later in college in the Western NC Mountains a work-study program gave Freeman the opportunity to mix clay, load kilns and help to build studio equipment. He left with a degree in Art, specializing in sculpture and two concentrations, one in writing and the other in theater.

Maggie and Freeman met in Arizona in 1976 and moved to Etowah in 1977. They both taught pottery classes at Blue Ridge Tech in Flat Rock. Together they have made a living with the pottery and raised two children.
Molly Morning-Glory Jones, received her BFA in sculpture at UNCA in May of 2010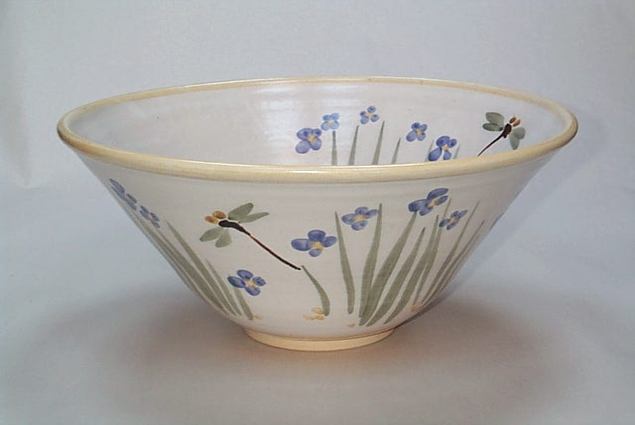 This bowl is about 14-16" in diameter